THE LATEST LOWDOWN IS AVAILABLE FOR DOWNLOAD!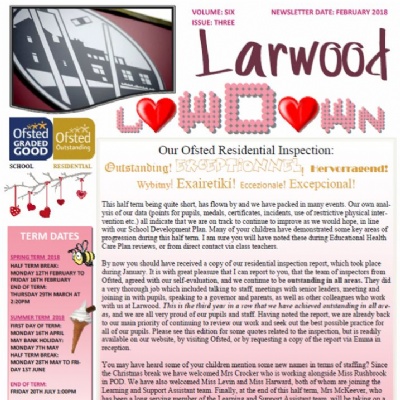 The latest Lowdown is available for download!
February 2018: Larwood Lowdown, VOLUME 6, ISSUE 3 is available for download!
Term dates, children's work, jokes, Larwood advertising and much more!
Click the PDF logo below
Our Ofsted Residential Inspection:
Outstanding! Exceptionnel! Hervorragend! Wybitny! Exairetikí! Eccezionale! Excepcional!
This half term being quite short, has flown by and we have packed in many events. Our own analysis of our data (points for pupils, medals, certificates, incidents, use of restrictive physical intervention etc.) all indicate that we are on track to continue to improve as we would hope, in line with our School Development Plan. Many of your children have demonstrated some key areas of progression during this half term. I am sure you will have noted these during Educational Health Care Plan reviews, or from direct contact via class teachers.
By now you should have received a copy of our residential inspection report, which took place during January. It is with great pleasure that I can report to you, that the team of inspectors from Ofsted, agreed with our self-evaluation, and we continue to be outstanding in all areas. They did a very thorough job which included talking to staff, meetings with senior leaders, meeting and joining in with pupils, speaking to a governor and parents, as well as other colleagues who work with us at Larwood. This is the third year in a row that we have achieved outstanding in all areas, and we are all very proud of our pupils and staff. Having noted the report, we are already back to our main priority of continuing to review our work and seek out the best possible practice for all of our pupils. Please see this edition for some quotes related to the inspection, but is readily available on our website, by visiting Ofsted, or by requesting a copy of the report via Emma in reception.
You may have heard some of your children mention some new names in terms of staffing? Since the Christmas break we have welcomed Mrs Crocker who is working alongside Miss Rushbrook in POD. We have also welcomed Miss Levin and Miss Harward, both of whom are joining the Learning and Support Assistant team. Finally, at the end of this half term, Mrs McKeever, who has been a long serving member of the Learning and Support Assistant team, will be taking on a different role with us at school. Therefore, she will move on to become the 'waking night' member of staff for the residential team. She has been an amazing member of the day team for many years and I am sure she will now be an amazing member of the residential team!
As always, my thanks for your continued support in making our school such a wonderful place to be part of.
All the best
S D Trimble
Headteacher