The latest Lowdown is available for download!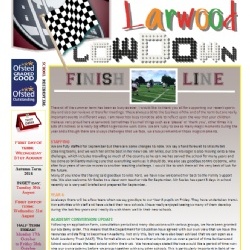 July 2016: Larwood Lowdown, VOLUME 4, ISSUE 6 is available for download!
New term dates, children's work, jokes, Larwood advertising and much more!
Click the PDF logo below
FINISH LINE
The end of the summer term has been as busy as ever. I would like to thank you all for supporting our recent sports day and also our reviews or transfer meetings. These always add to the business of the end of the term but are really important events in different ways. I am never too busy to not be able to reflect upon the way that your children make us very proud here at Larwood. Sometimes it's small things such as a 'please' or 'thank you', other times it is acts of kindness or a really big effort to get some work done. We are lucky to see so many magic moments during the year and although there are always challenges that we face, we always remember those magic moments.
STAFFING
We are fully staffed for September but there are some changes to note. We say a fond farewell to Miss Pallet (Cleaning team), and we wish her all the best in her new role. Mr Miles, our Site Manager is also moving onto a new challenge, which includes travelling as much of the country as he can. He has served the school for many years and has done so brilliantly making sure that everything works as it should do. We also say goodbye to Mrs Osborne, who after four years of service moves to another teaching challenge. I would like to wish them all the very best of luck for the future.
Many of you know that having said goodbye to Miss Ford, we have now welcomed her back to the Family Support role. We also welcome Mr Scales to a classroom teacher role for September. Mr Scales has spent 3 days in school recently so is very well briefed and prepared for September.
YEAR 6
As always there will be a few tears when we say goodbye to our Year 6 pupils on Friday. They have undertaken transition activities with staff and have visited their new schools. I have really enjoyed seeing so many of them develop during the last few years and I really do wish them well in their new schools.
ACADEMY CONVERSION UPDATE
Following an application form, consultation period and many discussions with various groups, we have been granted our academy order. This means that the Department for Education have agreed with our own view that we have the resources and staffing to become an Academy. Not only this, but we have also been advised that we can open as a Multi Academy Trust (MAT). This format allows us to have other schools join us over a period of time but Larwood School would act as the lead school within the trust. We have always stated that we would like a period of time running our own academy before we group together with any other schools. This is particularly important in light of recent and frequent governmental change which is ongoing. In the long run, it makes sense to formalise some agreements with other schools in due course. There are opportunities to share resources, costs and ideas. As always with this matter or any other, if you have any questions or queries, please do get in contact with us. Our actual conversion date is set for November 1st 2016.
All the best for the Summer
S D Trimble - Headteacher