We're collecting Sainsburys Active Kids vouchers! Please HELP!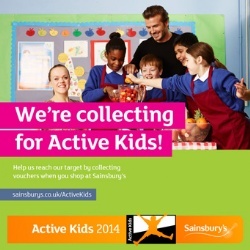 We are collecting the Sainsburys Active Kids Vouchers!
How to donate your Active Kids 2014 vouchers
It's easy to help our kids get active – simply shop or fill up with petrol at Sainsburys and don't leave until the staff have surrendered a bunch of vouchers to you.
We are happy to accept your vouchers in person, via your child or by post. Once we have enough vouchers we can exchange them for equipment and experiences from the Active catalogue.
As maintaining a good balance of eating well and being active is so important, this year Sainsburys have included more cooking equipment in the catalogue to help inspire and equip kids for a healthier life.
Thank you for the vouchers we have recieved so far.