LARWOOD LOWDOWN VOLUME 8 ISSUE 4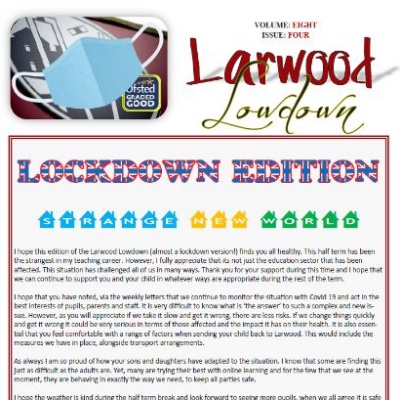 I hope this edition of the Larwood Lowdown (almost a lockdown version!) finds you all healthy. This half term has been the strangest in my teaching career. However, I fully appreciate that its not just the education sector that has been affected. This situation has challenged all of us in many ways. Thank you for your support during this time and I hope that we can continue to support you and your child in whatever ways are appropriate during the rest of the term.
I hope that you have noted, via the weekly letters that we continue to monitor the situation with Covid 19 and act in the best interests of pupils, parents and staff. It is very difficult to know what is 'the answer' to such a complex and new issue. However, as you will appreciate if we take it slow and get it wrong, there are less risks. If we change things quickly and get it wrong it could be very serious in terms of those affected and the impact it has on their health. It is also essential that you feel comfortable with a range of factors when sending your child back to Larwood. This would include the measures we have in place, alongside transport arrangements.
As always I am so proud of how your sons and daughters have adapted to the situation. I know that some are finding this just as difficult as the adults are. Yet, many are trying their best with online learning and for the few that we see at the moment, they are behaving in exactly the way we need, to keep all parties safe.
I hope the weather is kind during the half term break and look forward to seeing more pupils, when we all agree it is safe to do so next half term.
Thank you for your continued support!
S D Trimble
Executive Headteacher
Larwood Academy Trust
Larwood Lowdown PDF BELOW!