National Science & Engineering Week 2013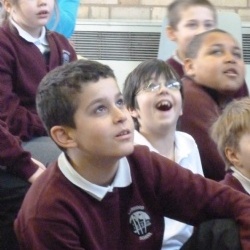 Larwood School (((BLASTS))) into Science Week!
In anticipation of Science week 2013, Larwood School had the privilege of having the Science Wizards come to visit. Mad Jack was an amazing scientist and he engaged all of our pupils in wonderful and easy to replicate experiments. One student was even overheard saying 'I love science now!' Students participated in hands on experiments making paper helicopters, goo, and exploding vitamins. Ask your children what they learned today!