LARWOOD LOWDOWN VOLUME 8 ISSUE 3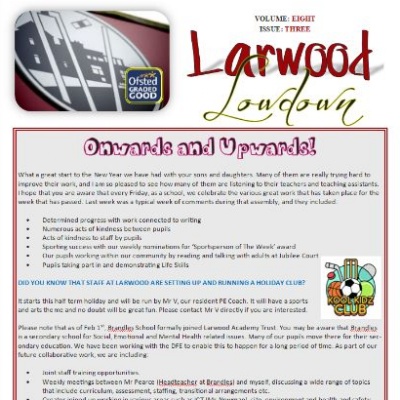 What a great start to the New Year we have had with your sons and daughters. Many of them are really trying hard to improve their work, and I am so pleased to see how many of them are listening to their teachers and teaching assistants. I hope that you are aware that every Friday, as a school, we celebrate the various great work that has taken place for the week that has passed. Last week was a typical week of comments during that assembly, and they included:
Determined progress with work connected to writing
Numerous acts of kindness between pupils
Acts of kindness to staff by pupils
Sporting success with our weekly nominations for 'Sportsperson of The Week' award
Our pupils working within our community by reading and talking with adults at Jubilee Court
Pupils taking part in and demonstrating Life Skills
Did you know that staff at Larwood are setting up and running a Holiday Club?
It starts this half term holiday and will be run by Mr V, our resident PE Coach. It will have a sports and arts theme and no doubt will be great fun. Please contact Mr V directly if you are interested.
Please note that as of Feb 1st, Brandles School formally joined Larwood Academy Trust. You may be aware that Brandles is a secondary school for Social, Emotional and Mental Health related issues. Many of our pupils move there for their secondary education. We have been working with the DFE to enable this to happen for a long period of time. As part of our future collaborative work, we are including:
Joint staff training opportunities.
Weekly meetings between Mr Pearce (Headteacher at Brandles) and myself, discussing a wide range of topics that include curriculum, assessment, staffing, transitional arrangements etc.
Greater joined up working in various areas such as ICT (Mr Newman), site, environment and health and safety (Mr Reid) and how we all approach common issues related to mental health (Mrs Ford). Mrs Smith and Mrs Fitz patrick are also providing support and guidance in relation to financial matters
Potential joint funding of various services that we both use which should lead to savings that can be redirected towards pupils needs
Thank you for your continued support!
S D Trimble
Executive Headteacher
Larwood Academy Trust