World Book Day 2013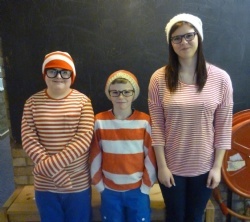 WHAT IS WORLD BOOK DAY? World Book Day is a day set aside every year to celebrate reading, books, authors and illustrators. It's marked in more than 100 countries around the world and will be celebrated for the 16th time in 2013Update.
World Book Day 2013 was a HUGE success at Larwood School many children and staff dressed up! We had a tremendous range of book characters from aliens and superheroes to Roald Dahl classics. As suspected, Harry Potter was spotted all around the school. There were a few stripy Where's Wally characters as well…can you spot them in these pictures?
The children participated in a book swap as well, exchanging books with each other and discovering new characters in someone else's old books.
All in all, it was a fun day celebrating the joy of reading!