Impact 2019 - 2020 (Year 2)
Children supported: 25
Ages: R, Y1, Y2, Y3, Y4, Y5 & Y6
Schools supported: 13
Visits: 147 + 19 monitoring visits
Referral acceptance: 100%
Attendance: 77% Improvement
Timetable increase: 70% on part time increased no reductions
Full time or increased timetable: 82% now full time or increased
Proactive Vs Reactive approach
Ashtree
Lodge Farm
Camps Hill
Featherstone Wood – Sharon Coubray
Martinswood – attempted NESSie
Tours
Transition between tiered support – tracking document, joint visits and handovers
Accountability: Staff Evaluations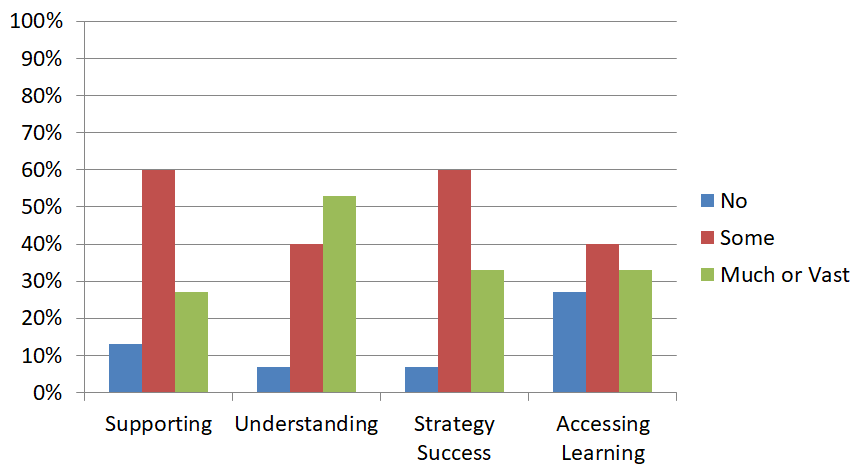 Accountability
Staff valued
Confirmation of strategies: confidence and reassurance
Improving: PSPs, Risk Reduction Plans and IRMP
Number of suggested ideas, advice and strategies as well as an opportunity to talk through them and ask questions
Allowing more consistency, support for a variety of staff
Modelling behaviour management strategies in real situations
Speed of reports becoming available
Links with other agencies and tier 4 provision
Improvements
(monitoring visits)
(currently working alongside Tier 4 & looking at Tiers within 3)
(current situation difficult but always attempted)
Pre initial visit checklist
(a good suggestion potential need to adapt referral form)
Attend on different days/times
(flexibility always attempted where possible)
Greater links with parents
(often identified as a strong point in most cases)
Accountability - Survey Monkey
Did the service provide effective communication with you throughout the process?
Yes 100%
Did the service offer practical strategies to support the child?
Yes 100%
As a result of the service, has the risk of permanent exclusion been reduced?
Yes 80%
Would you recommend the service to others based on your experience so far?
Yes 100%
Next Steps
Outreach
Referral process SDQs, checklists (Tier 2)
More collaborative and strategic projects
Tracker to monitor children through the tiers
In-reach
Launch 3 morning course for SENCOs
Roll out another TA/LASA focused shadowing morning