THE LATEST LOWDOWN IS AVAILABLE FOR DOWNLOAD!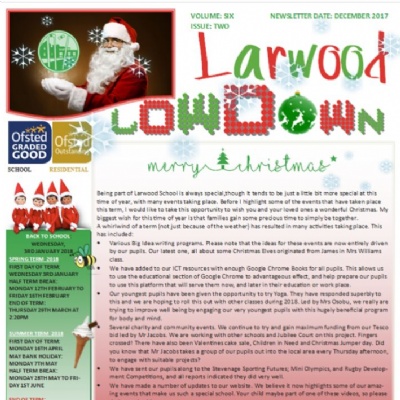 The latest Lowdown is available for download!
December 2017: Larwood Lowdown, VOLUME 6, ISSUE 2 is available for download!
Term dates, children's work, jokes, Larwood advertising and much more!
Click the PDF logo below
Merry Christmas
Being part of Larwood School is always special,though It tends to be just a little bit more special at this time of year, with many events taking place. Before I highlight some of the events that have taken place this term, I would like to take this opportunity to wish you and your loved ones a wonderful Christmas. My biggest wish for this time of year is that families gain some precious time to simply be together.
A whirlwind of a term (not just because of the weather) has resulted in many activities taking place. This has included:
Various Big Idea writing programs. Please note that the ideas for these events are now entirely driven by our pupils. Our latest one, all about some Christmas Elves originated from James in Mrs Williams class.
We have added to our ICT resources with enough Google Chrome Books for all pupils. This allows us to use the educational section of Google Chrome to advantageous effect, and help prepare our pupils to use this platform that will serve them now, and later in their education or work place.
Our youngest pupils have been given the opportunity to try Yoga. They have responded superbly to this and we are hoping to roll this out with other classes during 2018. Led by Mrs Osobu, we really are trying to improve well being by engaging our very youngest pupils with this hugely beneficial program for body and mind.
Several charity and community events. We continue to try and gain maximum funding from our Tesco bid led by Mr Jacobs. We are working with other schools and Jubilee Court on this project. Fingers crossed! There have also been Valentines cake sale, Children in Need and Christmas Jumper day. Did you know that Mr Jacobs takes a group of our pupils out into the local area every Thursday afternoon, to engage with suitable projects?
We have sent our pupils along to the Stevenage Sporting Futures; Mini Olympics, and Rugby Development Competitions, and all reports indicated they did very well.
We have made a number of updates to our website. We believe it now highlights some of our amazing events that make us such a special school. Your child maybe part of one of these videos, so please do have a look!
I am sure that Spring Term will be filled with just as many exciting developments. However, the term will start with some staffing changes. Please note both Mrs Poles and Miss Cox move onto other posts at the end of this term. We wish both the very best and thank them for their service to Larwood, particularly the many years that Miss Cox has spent at our school. We have appointed new staff for the new term and details will follow.
Finally, a thank you for your support during 2017.
My very best wishes for 2018.
S D Trimble
Headteacher