THE LATEST LOWDOWN IS AVAILABLE FOR DOWNLOAD!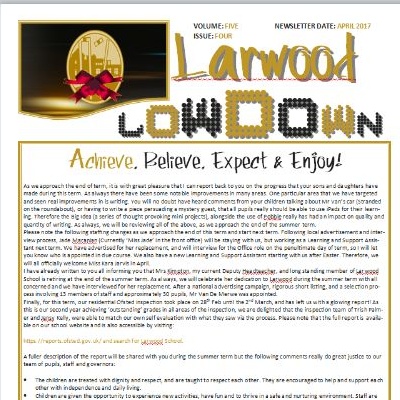 The latest Lowdown is available for download!
February 2017: Larwood Lowdown, VOLUME 5, ISSUE 4 is available for download!
Term dates, children's work, jokes, Larwood advertising and much more!
Click the PDF logo below
As we approach the end of term, it is with great pleasure that I can report back to you on the progress that your sons and daughters have made during this term. As always there have been some notable improvements in many areas. One particular area that we have targeted and seen real improvements in is writing. You will no doubt have heard comments from your children talking about Mr Van's car (Stranded on the roundabout), or having to write a piece persuading a mystery guest, that all pupils really should be able to use iPads for their learning. Therefore the Big Idea (a series of thought provoking mini projects), alongside the use of Pobble really has had an impact on quality and quantity of writing. As always, we will be reviewing all of the above, as we approach the end of the summer term.
Please note the following staffing changes as we approach the end of this term and start next term. Following local advertisement and interview process, Jade Maranian (Currently 'Miss Jade' in the front office) will be staying with us, but working as a Learning and Support Assistant next term. We have advertised for her replacement, and will interview for the Office role on the penultimate day of term, so I will let you know who is appointed in due course. We also have a new Learning and Support Assistant starting with us after Easter. Therefore, we will all officially welcome Miss Kara Jarvis in April.
I have already written to you all informing you that Mrs Kimpton, my current Deputy Headteacher, and long standing member of Larwood School is retiring at the end of the summer term. As always, we will celebrate her dedication to Larwood during the summer term with all concerned and we have interviewed for her replacement. After a national advertising campaign, rigorous short listing, and a selection process involving 13 members of staff and approximately 30 pupils, Mr Van De Merwe was appointed.
Finally, for this term, our residential Ofsted inspection took place on 28th Feb until the 2nd March, and has left us with a glowing report! As this is our second year achieving 'outstanding' grades in all areas of the inspection, we are delighted that the inspection team of Trish Palmer and Jensy Kelly, were able to match our own self evaluation with what they saw via the process. Please note that the full report is available on our school website and is also accessible by visiting:
https://reports.ofsted.gov.uk/ and search for Larwood School.
A fuller description of the report will be shared with you during the summer term but the following comments really do great justice to our team of pupils, staff and governors:
· The children are treated with dignity and respect, and are taught to respect each other. They are encouraged to help and support each other with independence and daily living.
· Children are given the opportunity to experience new activities, have fun and to thrive in a safe and nurturing environment. Staff are not risk averse and they want the children to have the same positive experiences as their peers.
· The children make excellent progress because of the residential provision. They have improved their behaviours and they have developed their social and independence skills
All of the above is only possible by having such a dedicated and committed team of staff that really do care, go the extra mile and look for every opportunity to help your children make progress. It is also why I am immensely proud to be the Headteacher of such a school!
Enjoy the Easter break and hopefully we will continue to see some sunshine. We return to school on TUESDAY 18TH APRIL at the usual time.
S D Trimble
Headteacher