Our Harvest went to the Young Homeless Group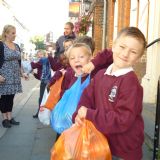 Our Harvest Festival food that some of our parents and carers sent into school went to the Young Homeless Group in Hitchin.
For the last three years Larwood School has supported The Young Homeless Group in Hitchin at Harvest time by giving them the food that some our parents and carers have sent in.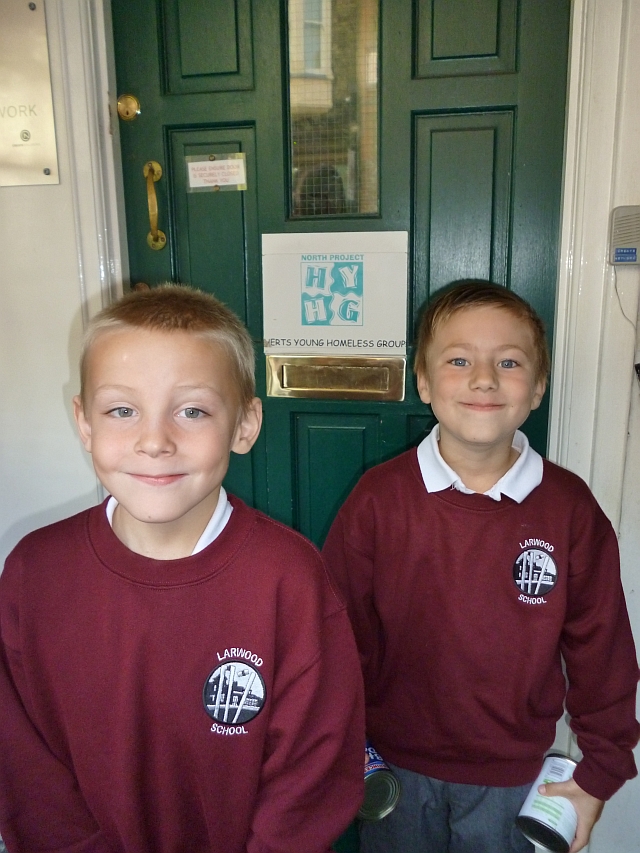 We arrived at the centre at 11.00am with all of our bags packed out with lots of nice food and some smellies. The staff at the centre were very pleased to see us and were even more pleased with the amount of stuff that we had for them. The children spoke to the staff and asked lots of questions about young homeless people to which the staff gave many informed answers to. We said goodbye to the staff and headed back to school all happy knowing how much help our contribution has made to the young vulnerable homeless people in Hertfordshire.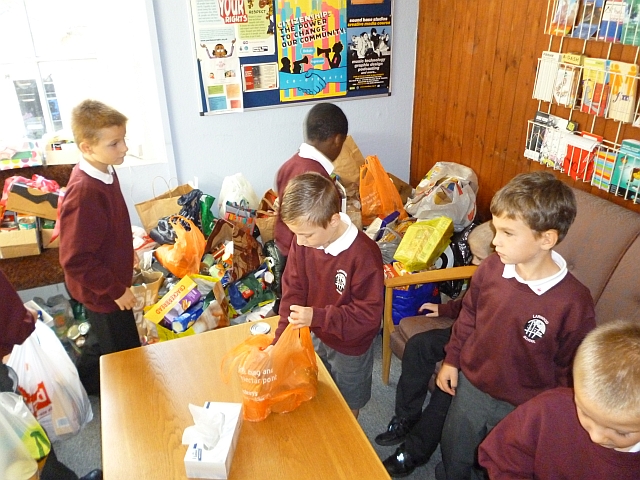 Herts Young Homeless Group is an independent charity enabling young people to secure and maintain appropriate accomodation through prevention, crisis intervention and tenancy sustainment.
With its head office based in Hatfield, HYHG works to support young people who are homeless or are at risk of homelessness in Hertfordshire.

Mission Statement:
To prevent homelessness by empowering individuals to make positive, informed choices. To support young people, those in crisis and individuals at risk of becoming homeless
Homelessness can be defined as being without permanent, stable or suitable accommodation. Besides rough sleepers and people living on the streets this includes those who are sleeping on friends floors or living in hostels.
The main cause of homelessness in young people is through family breakdown
Individuals do not choose to be homeless
Half of the young homeless people in Hertfordshire are 16/17 year olds
Many young people between 16 and 24 lack the necessary life skills to live independently
The national average age for young people leaving home and becoming independent is 25 years
Accessing health services is a challenge for homeless people of all ages
HYHG services are open to all 16 – 24 year olds who are homeless or threatened with homelessness. They provide information and support as well as emergency accommodation through the Crashpad scheme. HYHG works with other agencies throughout Hertfordshire towards improving local provision and preventing youth homelessness.

Countywide Locations:

Head Office
2nd Floor York House, 14 Salisbury Square, Old Hatfield, Herts AL9 5AD Tel: 01707 251384
Local Offices
North - 25 Sun Street, Hitchin, Herts SG5 1AH
South - 112-114 The Parade, Watford, Herts WD17 1AU
East - 2nd Floor, 41-43 Fore Street, Hertford, Herts SG14 1AL
West - 4 Oysterfields, St Albans, Herts, AL3 5UP