LARWOOD LOWDOWN VOLUME 9 ISSUE 3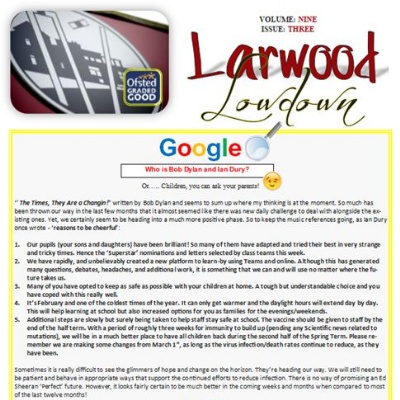 Google
Who is Bob Dylan and ian Dury?
Or, ….. Children, you can ask your parents!
'' The Times, They Are a Changin!" written by Bob Dylan and seems to sum up where my thinking is at the moment. So much has been thrown our way in the last few months that it almost seemed like there was new daily challenge to deal with alongside the existing ones. Yet, we certainly seem to be heading into a much more positive phase. So to keep the music references going, as Ian Dury once wrote - 'reasons to be cheerful':
Our pupils (your sons and daughters) have been brilliant! So many of them have adapted and tried their best in very strange and tricky times. Hence the 'Superstar' nominations and letters selected by class teams this week.
We have rapidly, and unbelievably created a new platform to learn-by using Teams and online. Although this has generated many questions, debates, headaches, and additional work, it is something that we can and will use no matter where the future takes us.
Many of you have opted to keep as safe as possible with your children at home. A tough but understandable choice and you have coped with this really well.
It's February and one of the coldest times of the year. It can only get warmer and the daylight hours will extend day by day. This will help learning at school but also increased options for you as families for the evenings/weekends.
Additional steps are slowly but surely being taken to help staff stay safe at school. The vaccine should be given to staff by the end of the half term. With a period of roughly three weeks for immunity to build up (pending any Scientific news related to mutations), we will be in a much better place to have all children back during the second half of the Spring Term. Please remember we are making some changes from March 1st, as long as the virus infection/death rates continue to reduce, as they have been.
Sometimes it is really difficult to see the glimmers of hope and change on the horizon. They're heading our way. We will still need to be patient and behave in appropriate ways that support the continued efforts to reduce infection. There is no way of promising an Ed Sheeran 'Perfect' future. However, it looks fairly certain to be much better in the coming weeks and months when compared to most of the last twelve months!
PLEASE NOTE:
that as per all communications up until now, we return on:
Monday 22nd February at the same time (10.00AM) and with the same pupils.
We will notify you of any changes ready for the week starting Monday 1st March.
Thank you for your continued support!
S D Trimble
Executive Headteacher

Larwood Academy Trust
DOWNLOADABLE LARWOOD LOWDOWN LISTED BELOW