LARWOOD LOWDOWN VOLUME 8 ISSUE 2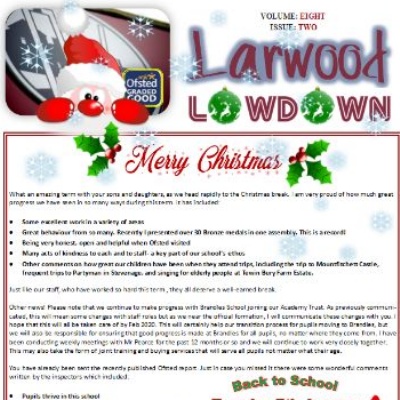 What an amazing term with your sons and daughters, as we head rapidly to the Christmas break. I am very proud of how much great progress we have seen in so many ways during this term. It has included:
Some excellent work in a variety of areas
Great behaviour from so many. Recently I presented over 30 Bronze medals in one assembly. This is a record!
Being very honest, open and helpful when Ofsted visited
Many acts of kindness to each and to staff- a key part of our school's ethos
Other comments on how great our children have been when they attend trips, including the trip to Mountfitchett Castle, frequent trips to Partyman in Stevenage, and singing for elderly people at Tewin Bury Farm Estate.
Just like our staff, who have worked so hard this term , they all deserve a well-earned break.
Other news! Please note that we continue to make progress with Brandles School joining our Academy Trust. As previously communicated, this will mean some changes with staff roles but as we near the official formation, I will communicate these changes with you. I hope that this will all be taken care of by Feb 2020. This will certainly help our transition process for pupils moving to Brandles, but we will also be responsible for ensuring that good progress is made at Brandles for all pupils, no matter where they come from. I have been conducting weekly meetings with Mr Pearce for the past 12 months or so and we will continue to work very closely together. This may also take the form of joint training and buying services that will serve all pupils not matter what their age.
You have already been sent the recently published Ofsted report. Just in case you missed it there were some wonderful comments written by the inspectors which included:
Pupils thrive in this school
Staff organise learning to get the very best from pupils
Pupils flourish at Larwood and are 'wired for learning.'
Leaders have organised an exciting and innovative curriculum that sparks pupil interest in learning
Leaders set high standards for pupil behaviour
Pupils are proud of their school and attend well.
As always your children were a great source of information during the inspection process. Again, I am very proud of them and all the staff for their hard work.
I wish you and your families the very best for the Christmas period and a wonderful new year, when it arrives.
Please note that Monday Jan 6th is an INSET day, with pupils returning on Tuesday 7th Jan at the usual time.
S D Trimble
Headteacher