Secret Conversations: everything you need to know about Facebook's new feature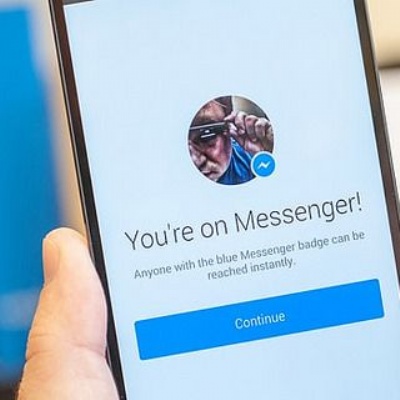 Safer Internet Day is on Tuesday 5th February this year. The aim of 'Safer Internet Day' is to inspire a national conversation about using technology responsibly, respectfully, critically and creatively. As part of this day, Larwood will continue to promote the safe, responsible and positive use of technology by posting useful tips/information to give YOU the tools to help keep your child safe.
To kick off this sharing of information for 'SID' we previously posted about 'In-game chat', this post gives you some information about 'screen time'.
Within this article in the colour burgundy or underlined words, are more external links to help support the following information:
Facebook's secret messenger feature allows users to talk to one another in a completely private and closed-off chat.
Secret Conversations enables two friends to speak to each other in an encrypted space which no-one else, including Facebook, is able to view. The feature provides users with device keys that ensure no one can sneak a peak at what they say to each other.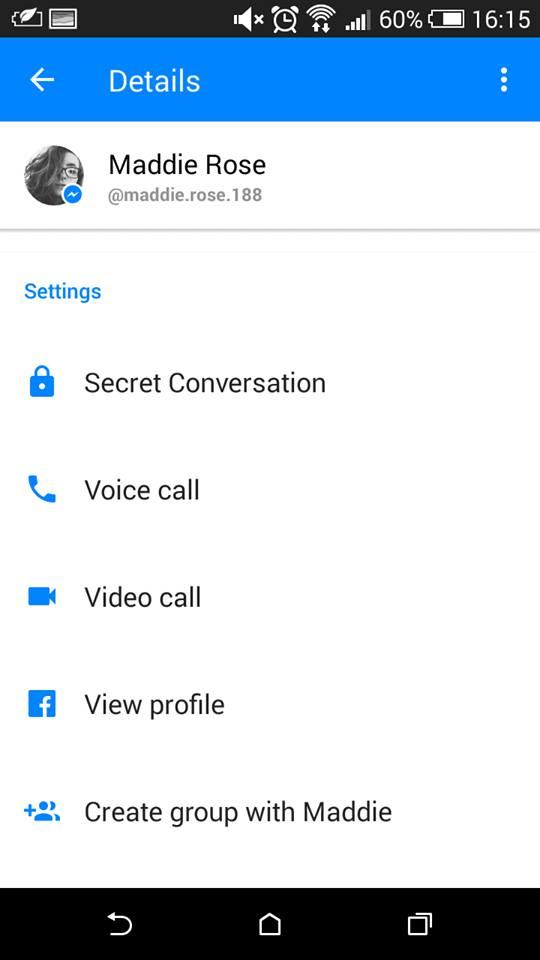 The messages that are sent and received are only available to read on the device you use to either create or open your conversation. That means you can't view a previous conversation on your laptop if you initially created or opened it on your smartphone, for example.
As well as this, Secret Conversations creates an ephemeral nature to your conversations by allowing you to control how long your messages can be seen by the person you send them to.
If you make your message available for 30 seconds, for example, a timer appears on the right hand side and then displays a countdown showing how many seconds the message is available for, before it disappears. You are given options to display your message, from as little as five seconds, to a maximum of 24 hours. There is also an option to turn this feature off.
It's worth noting that if you send someone a message through Secret Conversations, they will know it's a secret chat because the message bubble, which is usually blue, will be black. Next to their image it will read 'Encrypted from one device to the other' to let both parties know they're engaged in a secret chat.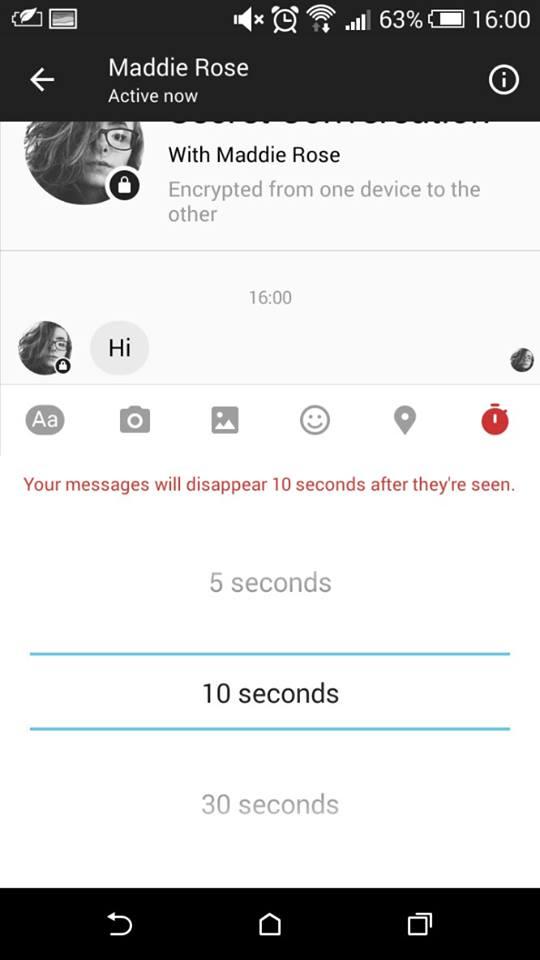 You are able to have both a normal Facebook messenger conversation as well as a Secret Conversation with the same person. A padlock icon is displayed next to the person's profile picture to tell you if a conversation is 'Secret'. You are still – like a normal Facebook message conversation – able to block and report users.
All Secret Conversations can be deleted from your Facebook app. This doesn't delete the same conversation or message from the other person's device, however.
Although Secret Conversations is designed as a completely private space for messaging, Facebook does state that users are still able to screenshot these messages, which may then be shared.
Secret Conversations is currently available to i0S and Android users.
Secret Conversations echoes features other apps, such as Snapchat, have had for some time, but there are safety implications for parents to consider if your child has a Facebook account.
Legally, they can sign up for the service from the age of 13. This means children will be able to have completely private conversations with anyone they are friends with on Facebook. The main difference between this and the previous 'direct messaging' feature is that these conversations cannot be accessed on devices other than the one the conversation is created on.
Some parents of younger children only allow them to open a Facebook account in return for knowing their password so they can monitor what they are doing in the app. If this is you, you should be aware that this feature means that children could be having private conversations on their phones that you will never see if you log into their account on another device.
One other thing to note is that if someone sends them something that upsets them, the messages will disappear. Facebook says it can decrypt recent messages to check the content if you contact its Help Team to report them. But if someone has been cyberbullying your child, for example, it looks like they will have to remember to screen grab the message if they want proof of what was said, unless they think to report it immediately.
As ever, one of the best things you can do to keep your child safe using any social media app, or when going online in general, is to:
Talk to them about the possible safety implications of the platforms they are using.
Teach them how to block users they don't want to talk to.
Encourage them to come to you or an adult they trust if anyone they talk to online does anything to make them feel upset or uncomfortable.
To read Facebook's advice about Secret Conversations and discover how to report posts when using it, click here