LARWOOD LOWDOWN VOLUME 7 ISSUE 2: MERRY CHRISTMAS!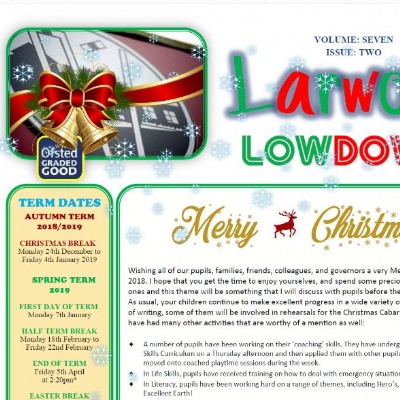 Wishing all of our pupils, families, friends, colleagues, and governors a very Merry Christmas 2018. I hope that you get the time to enjoy yourselves, and spend some precious time with loved ones and this theme will be something that I will discuss with pupils before the end of the term.
As usual, your children continue to make excellent progress in a wide variety of ways. At the time of writing, some of them will be involved in rehearsals for the Christmas Cabaret. However, we have had many other activities that are worthy of a mention as well:
A number of pupils have been working on their 'coaching' skills. They have undergone training, via our Skills Curriculum on a Thursday afternoon and then applied them with other pupils. This has then moved onto coached playtime sessions during the week.
In Life Skills, pupils have received training on how to deal with emergency situations
In Literacy, pupils have been working hard on a range of themes, including Hero's, Chocolate and Excellent Earth!
We have introduced a 'Hands on Monday' so that all pupils engage in their lesson, (on Mondays), in a practical way as possible.
We have had a range of charity-based events including a Coffee morning, Valentines sale, Children in Need and we will be holding our Christmas Jumper day on Friday 15th December.
Some pupils have joined the The Space Hub. This is the old residential area of the school and has now been refurbished to allow us to educate up to 12 pupils. Five of our existing pupils have joined the Hub, alongside some new pupils as well. All pupils in the Hub have autism as part of their needs.
During the first term of this academic year, I have also been working alongside a range of colleagues to promote a wider remit within the community, for Larwood Academy Trust. When we choose to become an academy, one of the aspects of this process that we wanted to pursue was being able to support other schools, pupils and colleagues and other pupils with special educational needs. This has now developed into the following:
Outreach support for Stevenage Primary Schools
This started in September and has been commissioned by DSPL 2 (Developing Specialist Provision Locally), and we now provide support for any primary school in Stevenage that has completed Tier 1 and 2 of the agreed behaviour support process. More information on this can be found by using the following links:
http://www.larwood.herts.sch.uk/page/?title=OUTREACH&pid=100
http://stevenagedspl.org.uk/tier-3/
This service is led by Joe Scales.
Working with Brandles secondary school in Baldock
I am currently continuing to work with Brandles School, supporting the Headteacher review some aspects of day-to-day practice, alongside any strategic changes that may also be developed. We are considering the possibility of formalising this process during the course of 2019. There are many immediate benefits for such a change. The most obvious being a clear continuum of provision from Larwood to Brandles for pupils that transfer there as part of their secondary provision. Additional support is also being provided with Mr Van (Deputy Headteacher) and Mrs Fitzpatrick (Business Manager).
The Space Hub
Following the closure of our residential unit, we have now used the vacant space to open up our Space Hub! This operates like a 'school within our school', and is available for pupils with autism as part of their needs. It is not for every child that has autism and has been created for up to 12 pupils.
Day to day, the Hub works differently to the rest of the school. They work in small pods rather than a traditional classroom, and best practice for staff working with autistic pupils is a key emphasis. It is new and developing, but I am very pleased with the progress that we have made so far. Mrs Williams is the Space Hub leader, and Mrs Otero and Mrs McKeever support her.
Farewell to Mrs Massey
Finally, at the end of this term we say farewell to a long serving member of our Kitchen team. Mrs Massey has served our school and pupils for many years. Originally, she worked with the residential pupils and recently has moved to helping with lunchtime service. She has been a fantastic colleague and has always taken huge pride with her work.
On behalf of all pupils, staff and governors, I take this opportunity to wish her a long and enjoyable retirement.
All pupils return on Monday 7th January 2019, at the normal time. As previously published with our term dates.
THIS IS NOT AN INSET DAY!