#3 NOVEMBER 2018 - OUTSTANDING School Governor Awards 2018 - We WON! Congratulations Mrs Barr!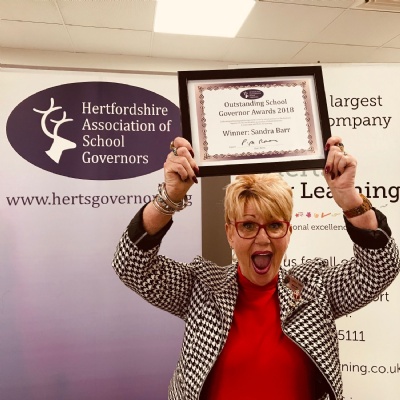 BLOG #3 This week started with a surprise announcement and moved onto a planned change.
Please see our release on the website with information about Sandra Barr winning the Governor of The Year Award, from Herts4Learning. This was fantastic news and was announced at the Hertfordshire Governors conference on Saturday. Sandra has and continue to be a key part of our schools development and always ensures that the very best quality of teaching, learning and development is being provided for our pupils.
Following confirmation that our residential unit is now closed, we have moved swiftly to change the space that was the residential area, to enable more pupils to join our school. Staffed by Mrs Williams, Mrs McKeever and Mrs Otero, The Space Hub, officially took off on Thursday 22nd November. To start with, it has been populated with five of our current pupils. Other new pupils will join the Hub in due course. This is a new area for our school and it will be an area, whereby pupils with autism will be taught in a different way to the rest of the school. This does not mean that every pupil with autism has to be part of the Hub. I am sure it will develop very quickly and no doubt, we will see some excellent progress form our pupils whilst they are there.